Martin Pugh's Post Armageddon Journey...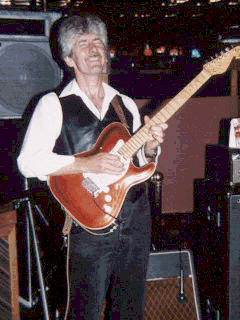 After Armageddon's demise, Bobby returned to Captain Beyond for an album and a tour, Louis reunited with his (and Keith's) former Renaissance bandmates for a couple of records and tours under the name 'Illusion' (he also worked with Yardbirds& Renaissance drummer Jim McCarty in a New Age band called Stairway in the 80's), and Martin stayed in Los Angeles, trying to get a musical project together.
Remember, this was now the late 1970's - bands like Styx, Foreigner, Toto, and Heart now ruled the airwaves. Here is Martin Pugh's account of some of his post Armageddon activities: "After Armageddon folded, I actually got some demo material together for a few record companies. But they would listen to it and say 'it sounds great, Martin - but is there any way can you make it sound a little more like (70's rock giants) 'Boston'?".
Martin continued to push forward with various musical attempts (including a brief collaboration with former Steamhammer vocalist Kieran White in 1979) until something interesting happened in the mid 1980's - there was a renewed interest in the Armageddon style of music. So much so that he and Bobby decided to put Armageddon back together (they had even secured a fair amount of interest from Capitol Records) but they couldn't find a suitable vocalist. To quote Martin; "Bobby and I had been rehearsing with Jeff Feinhold (of "Jesus Christ Superstar" fame) but the chemistry just wasn't right. So we thought 'how tough can it be to find a great singer in LA?'
"So we began auditioning singers - there were all kinds of people showing up. I remember guys were turning up with knee pads on, practicing their Freddie Mercury slides in the waiting room. We actually did find some really talented singers, and we'd be all set to buckle down for some serious rehearsals, but then they'd say '...I'm going surfing for the next two weeks'. So we just couldn't get it off the ground".
Martin eventually decided to go on a sabbatical of sorts, settling down in Central California with his wife and two daughters, where they ran a small store for a few years.
But he continued making music - honing his skills as a guitar craftsman (he now runs the Totem Guitar Company, based in Three Rivers, CA). After meeting up with harmonica/sax wizard Stan Ruffo (a respected Central California bluesman) in late 1994, they formed "The Instigators" - a serious blues band.
"What I'm doing now is closer to what I was playing in the '60's, during the 'swinging London' blues boom" says Martin. "In the Steamhammer days, we even did a couple of tours backing up Freddie King. I have always been knocked out by the blues, so it's great to be getting back to my roots".
The Instigators first release, a rollicking track (taken from their debut cassette, "Jump On This!") titled "Surfnet", is available on the new "Santa Cruz Blues" CD sampler from BluesTraxx Records.
To purchase The Instigators "Jump On This!" tape or the "Santa Cruz Blues" CD, contact:
The Vinyl Revolution
230 Lighthouse Ave., New Monterey, California 93940
ph (408) 646 9020